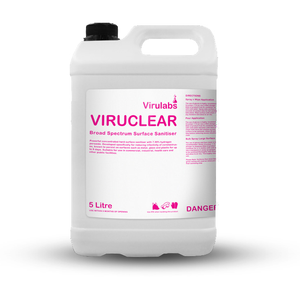 VIRUCLEAR - BROAD SPECTRUM SURFACE SANITISER
Viruclear has been developed specifically for reducing the infectivity of coronaviruses, known to persist on surfaces such as metal, glass and plastic for up to 9 days.
Suitable for use in commercial, industrial, health care and other public facilities.
Viruclear uses a combination of Stabilised Hydrogen Peroxide (SHP) and specialist surfactants combined with other additives to act as an oxidant by producing hydroxyl free radicals (OH) which attack essential components of microorganisms, including lipids, proteins and DNA/RNA.
5 litres of concentrate will make 83 litres of ready-to-use solution at 1:15 dilution rate
Provides great value for money
Available in 5L
Virus protection