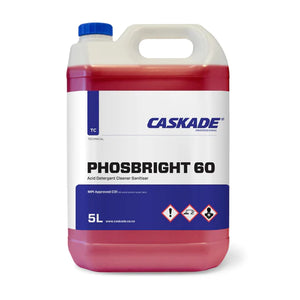 CASKADE PHOSBRIGHT 60 ACID DETERGENT DESCALER CLEANER
Phosbright 60 removes water hardness, milkstone deposits and sanitises in one operation. It also removes surface rust from ferrous metals and protects against subsequent re-rusting.

Phosbright 60 may be used with CIP equipment, spray systems, soak tanks or manually.
Phosbright 60 contains over 60% phosphoric acid, wetting agents, and 2.0% alkyl benzyl dimethyl ammonium chloride minimum.
Wear gloves, eye protection and protective clothing.
Phosbright 60 may be identified by its clear pink appearance, pH of 0-2, density greater than 1.30 Kg/L, and a minimum of 600g/L phosphoric acid by titration.
MPI approval C31 (all animal except dairy)

Directions for use:

Scale Removal: Dilute to 2% (20mL/litre or 1:50) to remove water hardness deposits or milkstone in CIP systems.
Circulate at 60°C for 30 minutes then rinse. Cooler water may be used with higher concentrations or longer contact times. Rinse with cold water.

Automatic Dishwashers are best de-scaled by shutting off the automatic feed, dosing as above (20mL/litre), then running for 15 minutes.
Where circulation is not possible scale removal may be accelerated by using hotter water, longer reaction times, or by scrubbing.

Rust Removal: Neat or diluted up to 30% (300ml/litre).
Apply to surface for 5 - 30 minutes. Rinse with cold water.

Hooks, Slides and Gambrels: Use at 7% minimum at 80-90C for 5-10 minutes when part of a 5 bath system.

Available in 5L