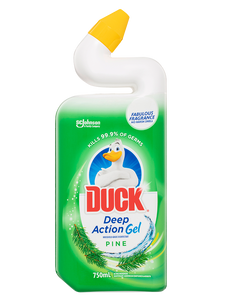 DUCK DEEP ACTION GEL TOILET CLEANER - 750ML
Duck® Deep Action Gel gets your toilet clean with its uniquely shaped neck—a shape, may I add, that was inspired by yours truly.
Getting your toilet clean isn't hard at all. Duck® Deep Action Gel sanitizes your toilet. It has a uniquely shaped neck—inspired by yours truly—that allows you to better reach under the rim, with 360 coverage to remove difficult stains and toilet ring build up. Leaving your toilet clean and with a fresh, long-lasting fragrance that you'll want to splash your feathers in. (Although for non-feathered humans that is certainly not recommended. Or so I'm told to say.)
Always refer to the instructions on the product label before using any Duck® Product. 
Available in 750ML PINE Fragrance