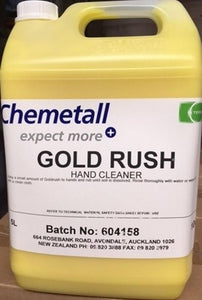 TERGO GOLD RUSH HANDCLEANER
As its name suggests, this premium handcleaner is designed to help the worker with dirty and greasy hands find a cleaner with rich qualities and pure natural ingredients.
Gold Rush is a user and environmentally friendly hand cleaner suitable for applications within workshops, garages, printing works, gardening outlets, etc. Gold Rush is solvent free and contains many natural ingredients. It provides skin conditioners with antibacterial and antifungal properties that assist with its excellent cleaning performance. It has a soft cream-like appearance and applies easily and quickly with the special mild abrasives included for deeply, ingrained dirt. A clean fragrance remains on the user's hands. A special feature of Gold Rush is its ability to remain a stable consistency and not appear to liquefy like many other gel type hand cleaners.
Available in 2x 5L pack, comes with Plunger, or 20L