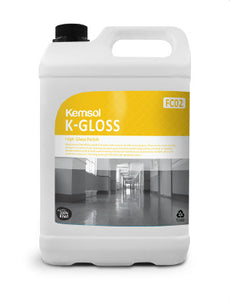 K-GLOSS - FLOOR POLISH
K-GLOSS is a metal cross-linked floor polish. It gives durability, superior wet look gloss finish and is easy to use. It flows evenly and levels quickly to dry to a lustrous gloss. Subsequent coats apply smoothly without drag, pulling, streaking or clouding. It resists surface scuffs, black heel marks and soil penetration, allowing extended periods between maintenance.
Suitable for use where slip resistance is required. Expect a long wearing finish when used in high speed burnishing programs as well as in conventional maintenance programs.
The quick-drying formulations allows multiple coats to be applied in short periods of time. 1LTR does one coat of 100sq metres. 4 LTRS would do 100 square metres of 4 X thin/reasonable coats.
Available in 5L