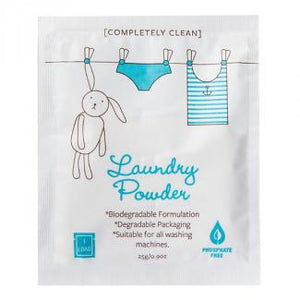 LAUNDRY WASHPOWDER SACHETS - 200/CTN
This high quality, concentrated Laundry Powder is perfect for anybody wanting the convenience of individual portion-controlled units and the quality of a top-end concentrated powder. Whether you have an on-site laundry or machines in the individual rooms, this great little product will reduce mess and wastage at the same time as providing the very best possible clean for your guests' laundry. Safe on colours, and effective on stubborn stains, our portion controlled washing powder really does offer a cost-effective solution to property owners and guests alike.
And as you would expect from us, the packaging for this product is made with a degradable paper material that enables it to breakdown under certain landfill conditions faster than standard packaging films. Not only that, but the Phosphate Free formulation makes it ideal to help protect our picturesque coastal and closed water systems. Another world first solution from Health Pak.
HPWP