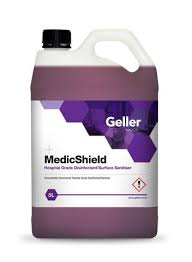 MEDICSHIELD - HOSPITAL GRADE DISINFECTANT/SURFACE SANITISER
READY TO USE
MedicShield is a hard surface cleaner and sanitiser that is proven to be effective against a range of bacteria, fungi and viruses that can cause disease especially in those that are in a weakened state. MedicShield has application in Medical, Dental, Aged Care and Laboratory.

Proven effective on the following list of VIRAL pathogens
Virucidal Efficacy
• Adenovirus type 4
• HIV-1 (AIDS Virus)
• Hepatitis B Virus (HBV)
• Hepatitis C Virus (HCV)
• Herpes Simplex 1 & 2
• Human Coronavirus
• Influenza A / Hong Kong
• Norovirus
• Respiratory Syncytial Virus
(RSV)
• Rubella (German Measles)
• Vaccinia (POX Virus)
MedicShield is Suitable for the following:
In Intensive Care Units - Cleaning and disinfection of all hard surfaces.
In Operating Theatres - Cleaning and disinfecting tables disinfect equipment,
cables and will not adversely affect surfaces.
For Blood spills - MedicShield is ideal for cleaning and disinfecting blood spills on
all hard surfaces.
Telephones - MedicShield is ideal for disinfecting phones where large numbers of
bacteria are found.
In Dental and GP Surgeries - MedicShield can be used in Dental and GP
surgeries for cleaning and disinfecting surfaces including chairs, stools, tables
benches and light fittings.
In Laboratories & Pathology Clinics - MedicShield is excellent for wiping
down benches, disinfection of white rooms, cleaning and disinfection of fume
cupboards, etc.
In the Nursery - Cleaning cribs, cots and change tables.
CSSD - Cleaning bench tops, stainless steel surfaces, sinks, trolleys, tap fittings.
In Toilets Showers and Sinks - Tile Surfaces, and all hard surfaces.
Available in 5L Ready to Use