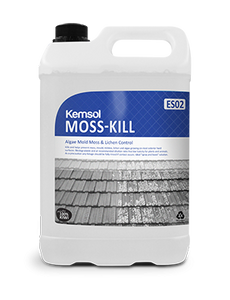 MOSSKILL - ALGAE, MOSS,MOULD, LICHEN CONTROL
MOSS-KILL will kill and prevent moss, mould, mildew, lichen and algae growing on most hard surfaces. MOSS-KILL is biodegradable. MOSS-KILL has low toxicity for plants and animals. But as a precaution any foliage should be fully rinsed if contact occurs. An ideal "Spray-on and leave" solution for controlling moss, mould and algae.
Can be used by itself or as a "preventative" program after water blasting. Has a residual action that can prevent the activation of moss and mould spores for up to 12 months. With a foaming base it allows applicators to see where they have applied the product to ensure complete surface coverage.
Available in 5L & 20L