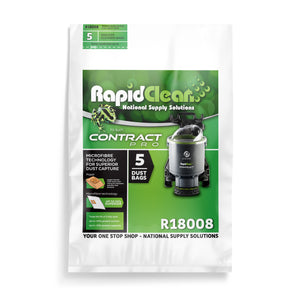 THRIFT OPEN VACUUM CLEANER BAGS - R18008
RapidClean Thrift SMS multi layered vacuum dust bags are made tough, providing high performance dust extraction and dust retention.
SMS multi layered dust bags maintain strong suction even as the bag fills up, through Increased airflow. Traps 99.5% of dust particles for more efficient and healthy cleaning.
FILTA COMMON BACKPACK MICROFIBRE VACUUM CLEANER BAGS 5 PACK (C064)