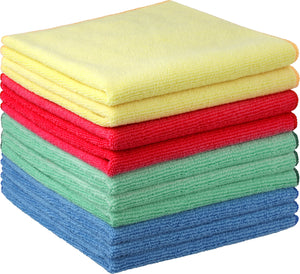 PREMIUM MICROFIBRE CLOTHS - 8 PACK
Rapidclean Microfibre Multi coloured Cloth Set is ideal for all cleaning zones.
These robust large microfibre cloths are tough and weigh 300gsm.
Commercial grade 80/20 split fibres grab dirt and other particles including bacteria for the most hygienic clean with one wipe, resulting in time savings for the user.
Rapidclean cloths are Haccap approved with a Decitex rating of 0.15, they have a long life and remain effective after 400 washes.
Using a reusable cloth is a sustainable option.
This pack includes 8 microfibre cloths: 2 x blue 2 x green 2 x red 2 x yellow