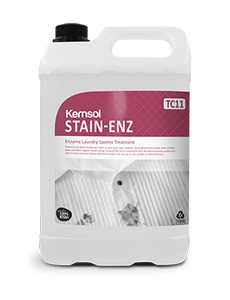 STAIN-ENZ - ENZYME LAUNDRY SPOTTER
STAIN-ENZ is a ready-to-use laundry prewash spray or postwash stain remover. Spray directly onto blood, food, protein, grass and other organic based soiling.
STAIN-ENZ utilizes the latest in enzyme technology to deliver an effective spray-n-wash type stain remover for a wide range of organic and difficult-to-remove stains. Simple and easy to use.
Available in 5L