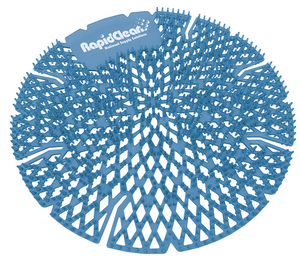 RAPIDCLEAN URINAL SCREEN - MOUNTAIN AIR FRAGRANCE
Rapidclean Premium Restroom Urinal Screen is a flexible urinal screen with a unique design that can be installed on either side, featuring a two-sided anti-splash texture to prevent splash back and cross-contamination of urine to other areas outside the restroom.
It has a translucent design that allows total viewing of the drain to ensure it remains free flowing. The screen releases fragrance over 30 days and manufactured from a specially engineered copolymer impregnated with an incredibly strong organic odour to counteracting VOC compounds.
Safe for use in waterless urinals. Made in the USA.
Available individually or box of 10